Roar by Cora Carmack
Rating: 1.5 Stars
Series: Stormheart, #1
Length: 382 Pages
Purchase: [Amazon] | [B&N]
Synopsis:
In a land ruled and shaped by violent magical storms, power lies with those who control them.

Aurora Pavan comes from one of the oldest Stormling families in existence. Long ago, the ungifted pledged fealty and service to her family in exchange for safe haven, and a kingdom was carved out from the wildlands and sustained by magic capable of repelling the world's deadliest foes. As the sole heir of Pavan, Aurora's been groomed to be the perfect queen. She's intelligent and brave and honorable. But she's yet to show any trace of the magic she'll need to protect her people.
To keep her secret and save her crown, Aurora's mother arranges for her to marry a dark and brooding Stormling prince from another kingdom. At first, the prince seems like the perfect solution to all her problems. He'll guarantee her spot as the next queen and be the champion her people need to remain safe. But the more secrets Aurora uncovers about him, the more a future with him frightens her. When she dons a disguise and sneaks out of the palace one night to spy on him, she stumbles upon a black market dealing in the very thing she lacks—storm magic. And the people selling it? They're not Stormlings. They're storm hunters.
Legend says that her ancestors first gained their magic by facing a storm and stealing part of its essence. And when a handsome young storm hunter reveals he was born without magic, but possesses it now, Aurora realizes there's a third option for her future besides ruin or marriage.
She might not have magic now, but she can steal it if she's brave enough.
In Roar, it is a world filled with raging storms and people who have the magical ability to control them, even making them disappear. Aurora has been raised to become the next ruler of her kingdom in Pavan, but the only problem is that she doesn't have the magical capabilities to rule the storms. When Aurora stumbles upon a black market with powerful secrets, she discovers that people hunt storms and are capable of keeping newly possessed storm magic. Aurora now realizes there is another option for her and her kingdom instead of the terrifying future she might be heading into. All it takes is to steal from a storm.
When I first heard of Roar, it peaked my interest. The plot was something new and never before seen. I have never seen a story where people could control storms and create things from the storm itself. This is the story's unique magic system. Basically, when I heard of this story, I thought of one thing only. This boss lady right here: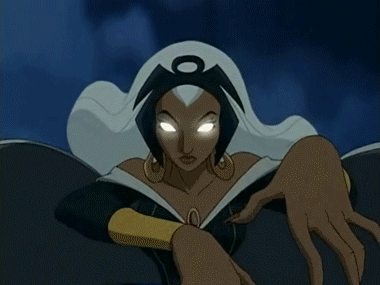 That's right, Storm! Storm, real name Ororo Munroe, is a super heroine from the X-Men comics from Marvel. I'm not a major comic fan, but I have always been a fan of Storm. As you can probably tell by her name itself, Storm has the mutant ability to control the weather, including storms. Although she is normally shown controlling lightning, she can just control about everything involving the weather. Storm and Aurora both have white hair and their stories both involve storms and controlling them. I only wonder if the author was inspired by Storm. The similarities are already there.
As much I am a fan to Storm, I was not a major fan to the story. I have started seeing reviews that weren't favorable and some reviews highlighting some issues that can be found in the story. I struggled on deciding whether or not if I really wanted to read this story. When I got an alert showing me Roar was on sale, I took the chance and bought it for my kindle. It wasn't going to be a total waste if I didn't like it.
When I finally picked up the book and started reading, I was excited to learn all the mythology and history behind the storms and how Stormlings came to be. Although what I read about the stormlings were interesting, I found myself not caring about anything else. It really didn't peak my interesting. I started to get bored, finding that some things may have not been needed in the story. There wasn't much in the story that seemed important to me. When I had enough, I decided to skim the rest of the story only because I refused to have another DNF right after another.
I may have missed some details while skimming the rest of the book, but based on what I have seen, there wasn't much added. I saw there was romance in the story involving Aurora and two other males. It seemed to me that this was probably going to be another typical romance in a YA novel. Based on some of the reviews I have seen, some favored the odd love triangle, while more questioned the point of it. I could say I probably understood it to a point, but really questioned it. I believe it would be better if it was just Aurora trying to save her kingdom and breaking things off with one of the love interests and the second not even being a love interest. When the author is known for romance, you should probably expect romance.
There wasn't really anything else that caught my attention. I was sort of disappointed that this wasn't going to be the story I really thought it would be. I hoped it would have been more reckless and crazy and powerful. In other words, more action and suspense. The story I thought it would be, compared to the one and only Storm, would have definitely been an instant fave and probably better. The storm came crashing down one this one before one could control it.