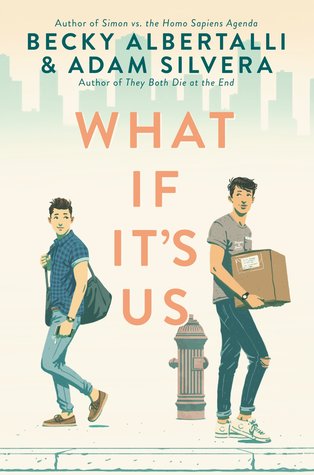 What If It's Us by Becky Albertalli & Adam Silvera
Rating: 5 Stars
Series: Standalone
Length: 437 Pages
Purchase: [Amazon] | [Barnes & Noble]
Synopsis:
Arthur is only in New York for the summer, but if Broadway has taught him anything, it's that the universe can deliver a showstopping romance when you least expect it.
Ben thinks the universe needs to mind its business. If the universe had his back, he wouldn't be on his way to the post office carrying a box of his ex-boyfriend's things.
But when Arthur and Ben meet-cute at the post office, what exactly does the universe have in store for them?
Maybe nothing. After all, they get separated.
Maybe everything. After all, they get reunited.
But what if they can't quite nail a first date . . . or a second first date . . . or a third?
What if Arthur tries too hard to make it work . . . and Ben doesn't try hard enough?
What if life really isn't like a Broadway play?
But what if it is?
"I don't know if we're in a love story or a story about love."
When What If It's Us was announced, I had already read a book written by each Silvera and Albertalli and loved both of the books. I was hoping this book would be just as a good as well. Before I would start the book, I promised myself to not read reviews, but I have seen a few on my feed and noticed all the ratings I have kept seeing. Based on the ratings given, it appeared that most people either loved it, or didn't like it at all. There were not many ratings that were in between. I was becoming worry that What If It's Us may not be as good as I hoped it to be.
When I first started, I was an instant fan. I loved how both perspective were written out. I did like Ben's perspective more for a couple of reasons; namely because Ben's mains Zelda in the Super Smash Bros. games and he likes Harry Potter. Arthur on the other hand is more of a broadway play and loves Hamilton, in which I have never seen or listened to. Both Ben's and Arthur's perspective were completely different and never mixed together. Silvera wrote Ben's perspective and Albertalli wrote Arthur's perspective, which is why the two voices were very distinct from each other.
I couldn't help but smile, laugh, and go through all the emotions as I read through the story. It felt really good to be so interested in a story after going through one month without any reading activity. This was the perfect book to read to pick up after not reading at all. I was so into the story, I finished the book in three days and I could have easily read it all in one day if I could.
What I also liked seeing in the story was that it wasn't all all about the romance between Ben and Arthur. All the characters in the story, including the two main characters, all had their own problems and you get to see everyone juggle their problems with their everyday life. The story has a way to mainly be about Ben and Arthur but it never stays focused to much on them. It has a nice balance to it.
I do say the ending was a bit bittersweet. I would have preferred a happier ending, but the ending we still got was appropriate. I was rooting for Ben and Arthur throughout the story and still root for the both of them. There were even times where I mentally had to set a character aside and give them a talking (I'm looking at you Arthur…)
In the end, I truly believe What If It's Us is an amazing book. It has all the feels and the emotions anyone could go through. I would highly recommend everyone to read this book for all the right reasons. I had so much fun reading this story and I hope everyone else as well.